When we speak about rings, size plays a big part. Let's figure out how to choose size properly.

There are two options for correct choose of a size:


- First option is to visit a jewelry store and ask to measure your finger with a special calipers, then in the same store, as a "control shot", you could try on any ring of your size and required width. This method is the most exact.

Good to know, that if a ring of the certain width is comfortable for you, ring with other width may not be same comfortable.



- Second good option is to measure the ring you already have with a calipers. According to the Russian standard, the size of a ring is equal to the diameter in mm. Before to use calipers please, be sure, that it is working well, without any errors. If the caliper is broken, size will not be accurate. Мaster is not responsible for the malfunction of your equipment, so, be carefull and check your calipers.

We cannot make any recommendations for choosing the size of the ring based on the photo of the finger, since everyone's fingers, of course, are not identical.

Important: the main difference between titanium and precious metals is that titanium does not deform with the long wearing. That is why the titanium ring cannot be stretched or reduced in size. The titanium ring can only be slightly filed by increasing its size, if only the ring thickness allows.

If you suddenly made a mistake with the size, better to send the ring to us for fixing. Unfortunately, in ordinary jewelry workshops they will not be able to help you, since they do not know the technique of working with titanium.

If the ring thickness allows and it is enough to slightly file it, it will cost approximately 20 USD, but in this case we will have to remove the color inside the ring and there will be just white metallic color.

How do you measure your wrist?

The measuring technique is not complicated, the main thing is to follow simple rules: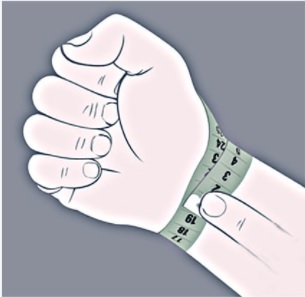 We wrap a centimeter tape around the wrist in the narrowest place. Measurement must be done tight.

Measuring with a thread occurs in the same way as with a centimeter tape, you only need to make a mark at the intersection place. Measure the length of the thread from the end to the marked place using a regular ruler.

If the ring is large or too small, contact us on Istagram: https://www.instagram.com/legenti_jewellery/
or email: shop @ legenti.ru and we will help you!

We ask you to be attentive to size selection.

We make jewellery exactly according to the size you gave.